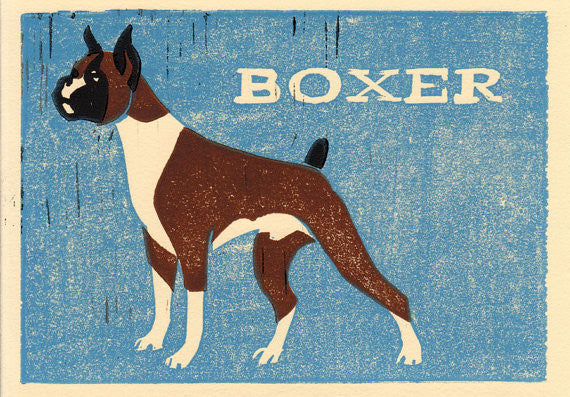 BOXER HAND-CARVED LINOCUT ILLUSTRATION ART PRINT BY ANNA SEE
$12.00
After suggestions from patrons and friends, I thought I'd commence my new series of linocuts depicting breeds of dogs, starting with the Boxer.
This hand-pulled linocut print is a perfect gift for that Boxer dog owner or Boxer lover in your life! Or for yourself, if you have a special place in your heart for Boxers! This Boxer print looks great on the wall keeping watch over your home!
It is created with multiple hand-carved linoleum mounted wood blocks, one for each color with as many as six. The colors are mixed and rolled out and printed by hand via careful burnishing with a metal spoon. The finished result is unique and original with no two prints being alike.
Available as a 5" x 7" Original Linocut printed with oil paint on heavyweight BFK Rives paper

Available as a Reproduction Giclee print on heavyweight BFK Rives paper in the following sizes:

4" x 6", 5" x 7", 8" x 10", 9" x 12", 11" x 14", 12" x 16", all with ~ 1/4" deckle edge

Signed upon purchase
Fits standard size frames and looks especially nice in a larger float frame
Artist retains all reproduction rights and copyrights.

Sale does not reflect transfer of copyright.